Subscribe to this page for updates on this year's theme and locations in 2018.
On the third Saturday of every September you're invited to tour noteworthy buildings, interesting places and heritage sites in Waterloo Region, many of which are not regularly open to the public. Admission is free!
Since 2003, more than 300 sites in Waterloo Region have opened their doors to more than 150,000 visits during Doors Open.
Doors Open Waterloo Region 2018
One day plus 34 fascinating locations plus FREE admission = Doors Open! Visit first-time sites and past favourites, for their architecture, their heritage, or the interesting things going on. Some have all three!
Places, Patterns and Plans
Our planned and built environment is the 2018 theme, with many sites focused on urban planning and land use, infrastructure and engineering, public spaces and transportation, and, of course, architectural design.
Startup Open House
This year we're partnering with Startup Open House at six of our high-tech sites. Job seekers, investors, curious neighbours: rub shoulders with innovative local founders and discover what startup culture is all about! www.startupopenhouse.com
Participating sites, listings and maps
Visit our event page at the Doors Open Ontario website where you can browse short descriptions, photos and maps for each Doors Open Waterloo Region 2018 participating site.
Click individual map points on this illustrated Google map to see detailed 2018 site information available for the event, including special tours, talks and other activities taking place at participating sites.
Download our full-size Doors Open 2018 map and guide, produced in partnership with the Waterloo Region Record. Printed copies are available at libraries, museums and community centres around the region. Copies will also be distributed in the Sept. 8 edition of The Record.
Special events
Doors Open Kick-off event
On Friday, Sept. 14, 2018 from 7-8:30 p.m. gather around the stone walls of the Gaol Garden for live music and drinks to celebrate the following: Friends of the Governor's House and Gaol 30th anniversary, 16 years of Doors Open and a new installation at the Four Season Garden. Gaol Garden is located at 73-77 Queen St. N, Kitchener, Ontario. The Governor's Sinfonietta will serenade the gathering with garden music throughout the evening. For this celebration, the Friends are pleased to acknowledge the generous partnership of the Ontario Heritage Trust.
Talks
Click the thumbnail pictures below to see full-size posters (PDFs) for each of our seven talks happening during Doors Open on September 15.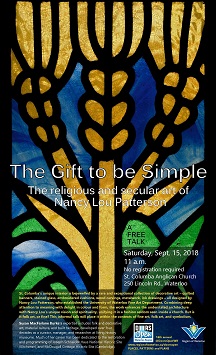 Exhibition
Click the thumbnail picture below for a full-size poster (PDF) of the visual art exhibition opening in conjunction with Doors Open September 15. It features five artists who use architecture as a subject.
Connect with us
Get involved
Volunteer
Volunteer opportunities are available for individuals to:
Lead tours of the featured buildings
Greet visitors
Count the total number of visitors
Photograph the event
Animate a site with music, theatre or children's activities
Free training and orientation, including information on the history of your assigned building, is provided. We require a four-hour commitment on the day of the event.
And if you are a member of a local arts, heritage or service organization, consider volunteering as a group. We will do our best to place your group at one location, or at locations close to each other.
Contact Doors Open co-ordinators for information on volunteering.
Be a photographer, blogger, social media or podcast journalist for Doors Open Waterloo Region!
Introduce people to your favourite Doors Open site, on or before Doors Open. Scope out any sites you would like to photograph/capture in a podcast/write about in your blog/tweet about. Pick which sites you would like to cover, and let us know. If you are free on the third Saturday of September, we would love it if you could also capture images/footage of visitors enjoying Doors Open sites!

Why blog/podcast/tweet/photograph for Doors Open?
advance access to normally-closed-to-the-public, 'secret' Doors Open sites
exclusive interviews with our Doors Open site owners/operators
link to Doors Open Ontario's province-wide website
meet other bloggers/podcast journalists/photographers in real time at our Doors Open networking event
connect with journalists working in traditional media in Waterloo Region
tell the world about the stories that make our 'secret' Doors Open sites interesting!
Your podcasts/photos/blog entries would be featured prominently on our Doors Open blog (with links from our Facebook page).
Following the event, some of your photos/podcast entries/blog entries would be featured on the Region of Waterloo's Doors Open blog and Facebook page.
Your photos/podcasts could be forwarded to the Ontario Heritage Trust, to be used in their province-wide publication (distributed in the Globe & Mail), or used on the Doors Open Ontario website.
If you are interested in being a volunteer photographer/blogger/podcast journalist with Doors Open Waterloo Region, please confirm with Jane Snyder or Karl Kessler at 519-747-5139 or email us.

Thank you for your interest in Doors Open Waterloo Region!
Photo contest
Calling all photographers! Become an official Doors Open volunteer photographer and submit your images to the annual Doors Open photo contest. Email our co-ordinators for more information.
Call for arts and heritage organizations! Get involved with Doors Open Waterloo Region!
Doors Open Waterloo Region, a free heritage and architecture tour, is looking for arts and heritage organizations to provide programming at various sites across Waterloo Region for Doors Open.
We are looking for music, drama performances, crafts for children, workshops/lectures, information displays, etc. that will enrich our visitors' experience during Doors Open.
Doors Open sites are located all across Waterloo Region (but a few of the sites are better suited to host live performances). Our event takes place on the third Saturday of September (most of our sites will be open from 10 a.m. to 5 p.m.)
As Doors Open is a free event, the performance must be presented gratis; however, you are free to sell tickets to upcoming shows, memberships, etc. before or after your performance.
If you are interested, please email or call 519-747-5139 by July 15, and we will match your organization with a Doors Open site.
Dig deeper - Learn more
Children and teens can learn more about local history courtesy of Waterloo Region authors.
Browse this booklist to get started. Some stories, such as Nancy-Lou Patterson's The Tramp Room, take place right in Waterloo Region. (The Tramp Room has the Joseph Schneider Haus Museum as its base). The booklist was compiled by Laura Reed, Co-ordinator of Children's & Teen Services at Kitchener Public Library.
Under age 12 with a story to share?
If you are under the age of 12, do you have a story connected to a Doors Open site? Did you do a pond study at Laurel Creek Nature Centre in Waterloo, or climb Pioneer Tower in Kitchener? Email us your story and we'll post it.

Adults have their own list of books on this area's history, also written by local authors. The list was compiled by Karen Ball-Pyatt, Local History Librarian at Kitchener Public Library.

Teachers
The Doors Open Waterloo Region map/guide (available each year in July) is a good teaching tool and has been featured in English as a Second Language(ESL) adult education classes across Waterloo Region. Learning themes include map use, transit routes and city and/or regional planning.
Contact us by email in mid-June or through the summer for copies of the map/guides for your classroom.
Useful links
Sponsors
Presenting Sponsor:
Media Sponsors:
Program Partners:
About Doors open
Doors Open Waterloo Region is part of Doors Open Ontario, a province wide initiative of the Ontario Heritage Trust to celebrate community heritage and architecture.
Depending on the community, Doors Open events take place any time from April to October. Doors Open is free, and many participating properties either normally charge an entrance fee, or are not usually open to the public. In most cases, no tickets or advance registration is required for the event.