This page contains information for all blue box users.
Did you know that recycling is a proud tradition in Waterloo Region? The first Blue Box program was invented here!
COVID-19 update: If you are sick, please put any item that has touched your mouth, nose, or eyes into the garbage. This includes items you would normally put in the blue box, such as water bottles, pop cans, milk/juice cartons, etc. Thanks for protecting our collection crews! Go to our Collection Matters page for more information.
Wondering how to recycle or dispose of a certain item? Ask the Waste Whiz.
To report a collection concern, please use our online form. Or contact our Call Centre at 519-575-4400, available 24 hours a day, every day. Please note that our Call Centre is experiencing a very high volume of calls at this time (related to the COVID-19 vaccine). We appreciate your patience.
Approved collection containers
If you are a new homeowner or renter in Waterloo Region, have moved within the last six months and receive curbside collection, bring proof of your new/changed address and pick up a blue box:
Cambridge Waste Management site, 201 Savage Drive, Cambridge. Go to the scale house and staff will provide directions. Monday to Saturday, 7 a.m. to 6 p.m.
Waterloo Waste Management site, 925 Erb Street West, Gate 2, Waterloo, Household Hazardous Waste Depot, Monday to Saturday, 7 a.m. to 6 p.m.
Do you have a broken blue box? Please bring it to one of our depots listed above, and get a replacement. We will recycle your broken box.
Do need extra blue boxes? These can be purchased at local retailers; please purchase blue boxes that we can collect safely and efficiently:
A reusable, rectangular plastic box.
A rim around the top so the driver can lift it and hook it on the side of the truck for sorting.
Made from rigid plastic which does not bend or give when lifted full.
Correct sizes:

Blue boxes for Containers Only (for cans, cartons, bottles, and jars) no larger than 68 to 91 litres (18 to 24 gallons).
Blue boxes for Paper Products and Plastic Bags (for paper, boxes, flyers, and plastic bags) no larger than 45 to 60 litres (12 to 16 gallons).

The Region of Waterloo will only collect from blue boxes that are the correct size, and does not reimburse for blue box purchases.
Containers that are not acceptable to use for blue box collection include wheeled carts, laundry hampers, storage totes, blue plastic "recycling" bags, blue plastic "recycling" cans, large clear or opaque bags, and cardboard boxes.
Use these tips to fit more into your blue box.
What goes in?
We collect recyclables that are prepared and sorted using the two-box sorting system.
COVID-19 update: If you are sick, do not put in any items that touched your face, such as pop cans, and juice cartons.
Box 1 - "Containers" blue box accepts the following types of packaging that contained a food, beverage, cleaning, personal or pet care product:
Cartons, such as drinking boxes, milk or juice cartons
Glass bottles and jars
Metal cans, including empty and dry paint cans, empty aerosol cans
Paper cups, such as take-out coffee cups
Plastic bottles, jars, and clamshells with plastic identification symbols one through seven: . Note: Plastic flower pots/trays, and plastic containers that contained a vehicle fluid (antifreeze, windshield washer fluid, etc.) are also accepted.
Aluminum foil wrap and pie plates/trays
How to prepare: Empty. Rinse. Do not bag. Put items in loose. Learn how to deal with lids and labels.
NO broken glass, dishware, light bulbs, containers with food, appliances, car parts, candy wrappers, chip bags, cardboard cans, coffee pods, clothes baskets and hangers, straws, Styrofoam, toys, wooden orange crates.
Box 2 - "Paper products and plastic bags" blue box
All household paper, including newspaper, magazines, writing paper, envelopes, books, and plain wrapping paper (put in a grocery bag)
Boxboard, paper tubes, paper egg cartons, paper take-out trays (stuff inside a grocery bag or cereal/cracker box)
Corrugated cardboard: Flatten and size no larger than 75 x 75 x 20 centimetres (30 x 30 x 8 inches), tie together with twine
Plastic bags, including bread, milk, produce, and outer wrap from packages of toilet paper, diapers, etc. (stuff inside one bag and tie handles shut)
NO gloves, masks, sanitizing wipes, stand-up pouches, liner bags from cereal/cracker boxes and other bags that make a "crinkle" sound, bags that contained meat or cheese, biodegradable bags, mesh bags, bubble wrap, diapers, foil or plastic wrapping paper, bows, ribbons. No furnace filters.
Wondering if an item is accepted in our Blue Box program? Ask the Waste Whiz!
Thank you for sorting it out and recycling it right.
Collection schedule and rules
Set out your blue boxes by 7 a.m on your collection day.
Collection continues as usual on all holidays, except for Christmas Day and Boxing Day. When these holidays fall on week days, collection will be changed. Go to our Holiday Collection section for details.
Different trucks pick up different materials starting at 7 a.m. (they work into the evening). The time that your items are collected will vary week to week depending on various factors, such as routing changes, road construction, and weather conditions.
There is no limit to the number of blue boxes you can set out each week.
The maximum weight for each blue box is 23 kilograms (50 pounds).
Banned and uncollectable material, such as broken glass, masks, syringes, bagged containers, and oversized cardboard, will be stickered and left behind by collection staff.
If someone in your household is sick, do not recycle items that might have touched their face, such as pop cans and juice cartons. Place these items in the garbage instead.
Keep your blue boxes visible and in reach for collection staff (not behind a snowbank or parked car).
If you have a collection concern, please use our online form.
Options for dealing with recyclables
Ontario Deposit Return program - Bag it Back! Return and recycle all alcohol containers, including cans, bottles and cartons, through this program.
Reuse! Consider reusing jars for storing dry goods. Look for ways online to repurpose and "upcycle" all kinds of packaging.
Drop off recyclables at the Region's waste management sites (fees will apply).
Tips and FAQs (Frequently Asked Questions)
What is the two-box sorting system?
The two-box sorting system is when you sort "containers" (cans, cartons, bottles and jars) into one blue box and "paper products and paper bags" (newspaper, flattened and bundled boxes, and bagged bags) into another blue box.
The advantages of this sorting system are:
Convenience. A larger blue box is allowed for containers. This will help you store and set-out more recyclables in one blue box.
Efficiency. Properly sorted blue boxes help collection staff sort into the two compartments of their trucks.
We have stickers to help your household sort recyclables. Please email us your order or call our Customer Service Call Centre at 519-

575-4400, available 24 hours a day, every day.
Why can't all types of packaging be accepted?
Some items cannot go into the blue box because: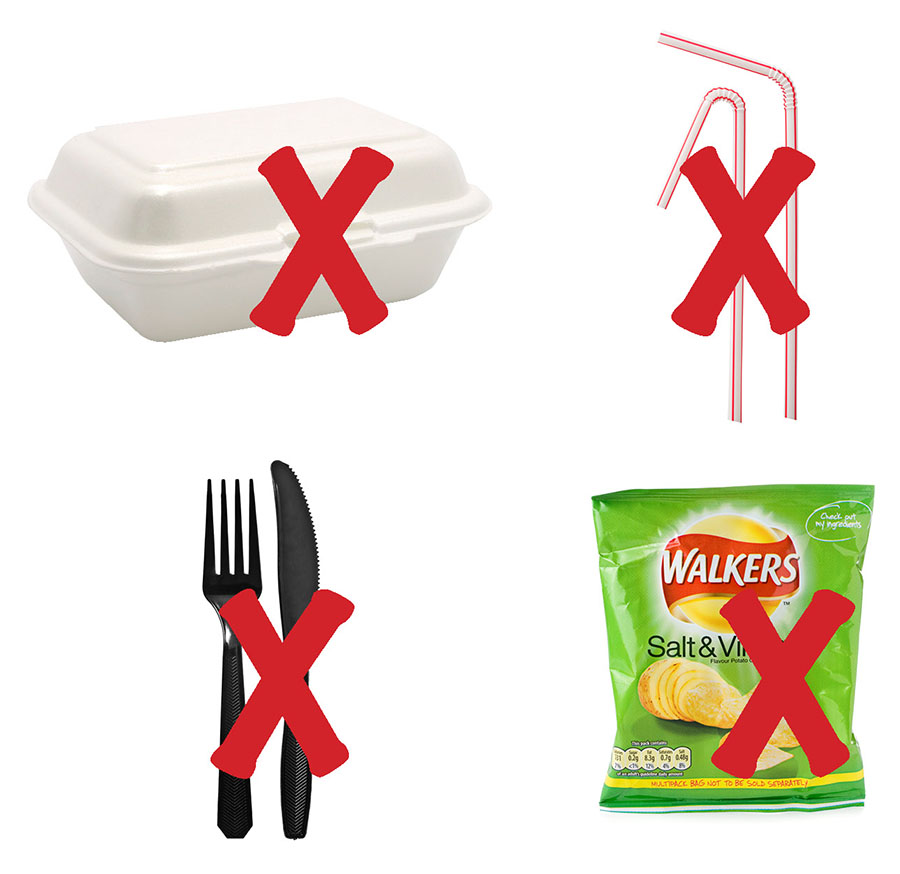 We don't have a processor who can turn it into something else.
The item may cause health and safety concerns for collection staff. For instance, if you have COVID-19, do not recycle any items that touched your face, such as pop cans and juice cartons.
The item is banned from collection.
What happens to my recyclables? Where do they go?
Our collection contractors drop off recyclables at our Nyle Ludolph Materials Recycling Centre, located at 925 Erb Street West (Gate 1), Waterloo. Go to our section explaining about the history and operation of the Nyle Ludolph Materials Recycling Centre.
What do the numbers on plastic containers mean?
The plastic identification symbol tells us the type of plastic an item is made out of, not whether it is recyclable in our program. Some plastic items (such as toys or storage bins) may have these symbols on them, but they can't be accepted in our Blue Box program. (The type of plastic packaging we accept in our program are "containers" - they had to contain something when you purchased the product.)
Please note that Number 6 is Polystyrene. It comes in different forms and some of these forms are not accepted in our Blue Box program. Plastic cutlery, and Styrofoam packing blocks, peanuts, and meat trays are not accepted in our Blue Box program.
How can I fit more into my blue box?
If your blue box is overflowing with recyclables, it can create litter. Here are some tips to fit more into your blue box:
Crush or stack metal cans
Flatten milk and juice cartons
Flatten plastic bottles (For example, take the lid off of a plastic water bottle, squish the bottle and put the lid back on so it remains flattened)
Stack paper coffee cups
Flatten boxes, size, and bundle with twine no larger than 75 x 75 x 20 centimetres (30 x 30 x 8 inches) and place beside your blue box
Why can't I recycle stand-up pouch bags?
Stand-up pouches are a very common type of packaging, but are not currently accepted in our program.
Stand-up pouches are made with many thin layers of different types of plastic. This makes them strong and lightweight, but it is difficult to separate the layers to recycle.
Current recycling markets want plastic bags which are made out of only one type of plastic. This allows for the bags to be turned into pellets that have consistent qualities (such as melting temperature). These pellets can then be used to make other products, such as garbage bags. Costly problems are created if different types of plastic/pellets are mixed in, such as holes in garbage bags.
Why aren't bagged containers accepted?
Containers need to be put into the "Containers" blue box loose. Bagged containers
cannot be processed at our sorting centre since there is no equipment to remove the bags, and
cannot be marketed/sold. Each type of material (carton, metal, plastic, glass) has to be separated and sent to different end markets/use.
Lids and Labels - on or off?
Remove a large lid if it is a different type of material than the rest of the container. Examples of this would include removing a metal lid on glass pickle jar, or a plastic lid on a paper coffee cup. This helps each type of material to be recycled separately. For instance, metal lids will get picked up by the magnet at our sorting centre and recycled with steel cans.
Keep small lids on. If possible, squish the bottle first then replace the lid, to maximize the space in your blue box, and prevent litter.
Paint cans - remove lids. Paint cans need to be empty and dry and have their lid removed, to ensure they are safe to pick up.
Labels can stay on. In the early days of recycling programs, labels had to be removed from food and beverage containers, but not anymore. Recycling equipment and processes can now remove labels.
Can I recycle cardboard cans?
A cardboard can is made out of mixed materials including a metal top and/or bottom, a paper tube, and sometimes a foil peel-away freshness seal and plastic lid. Frozen juice, coffee, and chips are some of the products typically packaged in cardboard cans.
All the different types of materials collected in the Region's Blue Box program have to be sorted and sent to different recycling markets. If cardboard cans are taken apart,
Plastic lid: Recycle with other food/beverage containers
Metal top/bottom: Recycle with other food/beverage containers
Foil peel-away freshness seal: Put in the garbage
Paper tube: Put in the garbage. This type of paper contains a lot of glue and paper mills cannot accept it for recycling.
If cardboard cans are not disassembled, then the can has to be put in the garbage.
Can I use a lid or net to cover my blue box? What about carts?
No, at this time, blue box lids and nets, and carts are not accepted in our Blue Box program.
Background: Overfilled blue boxes and high winds can create litter and reduce the amount of recyclables collected. To try to find a solution to these issues, municipalities have tested various types of lids and nets on blue boxes. Unfortunately, lids and nets create several challenges and increase collection time and costs. Some of the issues include difficulty in removing, becoming entangled, blowing away after collection, and freezing in cold weather.
In many municipalities, all recyclables are collected together in one cart. While this reduces litter, it affects the quality of the recyclables:
materials that are difficult to separate, such as glass shards in newsprint
high levels of unaccepted material (rates can range as high as 25 per cent)
In comparison, the Region of Waterloo's two-box sort system produces quality, marketable recyclables. Our rate of unaccepted material averages between six to eight per cent.
As well, it is important to note that the responsibility for blue box recycling is changing in Ontario, shifting away from municipalities. By the end of 2025, producers of the different types of recyclables are expected to be fully responsible to set up, monitor and report on recycling (Extended Producer Responsibility or EPR). Given this, the Region of Waterloo is not making any changes or additions to our Blue Box program.
How can I make sure my cardboard is collected? Why do I have to bundle it?
With more deliveries to our homes, we are getting more cardboard. Here are the steps to make sure your cardboard is collectable:
Sort: Remove any plastic, foil, or any other non-cardboard items. If the cardboard has large food/grease stains (such as on pizza boxes), tear off the stained part and put it in your green bin. Keep the clean part for your blue box. If the cardboard has any other coatings (such as paint, wax), put it in the garbage.
Flatten: Remove tape and staples so you can flatten it.
Size: Cut down or fold over pieces which are wider or longer than 75 centimetres (30 inches).
Bundle: Stack cardboard no higher than 20 centimetres (8 inches) and tie with string.
Set it out beside or in between your blue boxes on your collection day.
Why is this important?
To fit in the truck compartments. Bundles larger than 75 by 75 by 20 centimetres (30 by 30 by 8 inches) cannot be collected.
To reduce litter in our community.
To improve collection efficiency. Bundles are easy to pick up, compared to loose pieces. And cardboard stuffed in a box falls out, and the unflattened box reduces truck capacity.
Are there other options to recycle it? Yes. Cardboard can be dropped off at the Region's waste management sites (fees will apply). Note: Cardboard has to be flattened to fit through the fence around the bin, but oversized pieces are accepted.
What happens to glass after I put it in the blue box?
In the past, the Region sorted glass by colour to increase the value of the material, and was able to sell glass to recyclers. However markets have changed and recyclers now want paid to receive glass from municipal programs.
Currently, the Region reuses glass. When laying pipe for the landfill gas collection system or building landfill roads, the glass is mixed with rubble, concrete and crushed toilets (more reuse!) and used in place of gravel. This saves money; the Region doesn't have to pay a recycler to take it, and saves about $50,000 each year by not buying gravel. And the Province of Ontario credits the Region of Waterloo with diverting all the glass handled in this way.
We continue to monitor markets for ways to recycle glass, and will make changes when possible.
Why does the Region collect glass?
The Region of Waterloo is required to collect glass in the Blue Box program under Ontario Reg. 101/94.
How much glass does the Region collect each year?
Approximately 3,000 metric tonnes of glass are collected through the Region of Waterloo's Blue Box program each year.
My blue box wasn't emptied. Why?
There are a number of commons reasons why items are not collected, including by-laws and bans.
If you have concerns about your collection, please use our online form or contact our Call Centre at 519-575-4400, available 24 hours a day, every day.