COVID19 update: If you are sick, please place any item that has come into contact with your mouth, nose, or eyes into the garbage. This includes items you would normally put in the blue box, such as water bottles, pop cans, milk/juice cartons, etc. Thanks for helping to protect our collection crews!
Recycling is a proud tradition in Waterloo Region. After all, the first Blue Box program was invented here!
This page contains information for all blue box users. If you are at an apartment building or townhouse complex that uses large recycling carts, please go to our Cart recycling page.
Please note:
On your collection day, different trucks pick up different materials starting at 7 a.m (they work into the evening).
The time that your items are collected will vary week to week depending on various factors, such as the amount of materials at the curb, routing changes, road construction, and weather conditions.
Collection crews sticker and leave behind unacceptable items.
Wondering how to recycle or dispose of a certain item? Ask the Waste Whiz below:
To report a collection concern, please use
our online form
. Or contact our Call Centre at 519-575-4400, available 24 hours a day, every day.
Who is eligible?
We collect blue box recycling from single-family homes, legal duplexes, eligible townhouse units, and small apartment buildings (6 units or less) every week.
Apartment buildings of 7 units or more, and most townhouse/condominium complexes do not receive curbside collection from us.
Check your eligibility, collection day and services,
Still not sure if your property is eligible? Please contact our Call Centre at 519-575-4400, available 24 hours a day, every day.
Approved collection containers
Collection crews pick up thousands of blue boxes each day. Using the right container keeps them safe and makes it easier for them to sort recyclables into their two truck compartments.
Items in wheeled carts, laundry hampers, storage totes, blue plastic "recycling" bags, blue plastic "recycling" cans, large clear or opaque bags, and cardboard boxes will not be collected.
Due to COVID19 measures, our offices are closed until further notice and we are not distributing blue boxes at this time.
Please consider purchasing them from local retailers, and look for these features:
A reusable, rectangular plastic box - not a cart, can, or bag.
A rim around the top so the driver can lift it and hook it on the side of the truck for sorting.
Made from rigid plastic which does not bend or give when lifted full.
Correct sizes:

Blue boxes for Containers Only (for cans, cartons, bottles, and jars) no larger than 68 to 91 litres (18 to 24 gallons).
Blue boxes for Paper Products and Plastic Bags (for paper, boxes, flyers, and plastic bags) no larger than 45 to 60 litres (12 to 16 gallons).
Collection schedule and rules
Set out your blue boxes by 7 a.m. every week on your collection day. Use our online address search to find your collection day.
There is no limit to the number of blue boxes you can set out each week.
Do not put broken glass or other hazardous waste in your blue box. Blue boxes with broken glass or other hazardous waste will not be emptied.
Do not overfill. Maximum weight for each blue box is 23 kilograms (50 pounds).
Keep your blue boxes visible and in reach for collection staff (not behind a snowbank or parked car).
Prepare recyclables correctly. This includes,

emptying and rinsing all cans, cartons, bottles and jars, and placing them in loose in your blue box (containers that are bagged will not be collected)
flattening, sizing and bundling corrugated cardboard in the correct dimensions
putting all acceptable bags in a grocery-sized plastic bag, and tying the handles of the outer bag closed
sorting recyclables into two blue boxes (cans, cartons, bottles and jars in one blue box, and paper products and plastic bags in another blue box).
If you have any questions or collection concerns, contact our Call Centre 519-575-4400, available 24 hours a day, every day.
What goes in?
We collect recyclables that are prepared and sorted using the two-box sorting system.
Empty and rinse all containers.
Put them in loose - do not bag.
Aluminum foil trays and wrap
Cans: Includes metal food and beverage cans, paint cans (dry paint cans only, remove lid), empty aerosol cans
Cartons: Includes drinking boxes, milk and juice cartons
Glass bottles and jars (remove metal lids and put both pieces loose in blue box)
Paper cups, such as take-out coffee cups (remove plastic lid and put both cup and lid loose in the blue box)
Plastic containers: Includes plastic bottles, jars and clamshell containers that contained food, a beverage, cleaning, personal or pet care product at the point of purchase, and clean flower pots/trays, and with plastic identification symbols one through seven: .
Notes: The plastic identification symbol tells us the type of plastic an item is made out of, not whether it is recyclable in our program. Some plastic items (such as toys or storage bins) may have those symbols on them, but they can't be accepted in our Blue Box program.
Number 6 is Polystyrene/Styrofoam. There are different types of polystyrene. We cannot accept the expanded foam type which includes packing blocks and peanuts, as well as anything that did not contain something at the point of purchase, such as cutlery.
"Paper products and plastic bags" blue box
Paper, including newspaper, magazines, writing paper, envelopes, hard and soft covered books, and paper wrapping paper. Put inside a plastic bag and tie the handles of the bag to reduce litter.
Boxboard, including cereal, cracker, and tissue boxes, paper take-out trays, egg cartons, paper towel and toilet paper tubes. Flatten. Stuff inside of an unflattened box, bundle no larger than 75 x 75 x 20 centimetres (30 x 30 x 8 inches), or put into a grocery bag.
Corrugated cardboard: Flatten and size no larger than 75 x 75 x 20 centimetres (30 x 30 x 8 inches), tie together with twine and place beside your blue box.
Plastic bags and outer wrap: All bags with plastic identification symbols two and four; grocery, shopping, zippered bags (no stand-up pouches), dry cleaning, newspaper, bread bags, fresh and frozen fruit/vegetable bags, milk outer and rinsed and dry inner bags, salt bags (softener, road), clean garden soil and mulch bags. Plastic outer wrap such as from packages of paper towels, napkins, diapers, and cases of pop. Stuff inside one bag and tie the outer bag closed.
What stays out?
Some items cannot go into the blue box because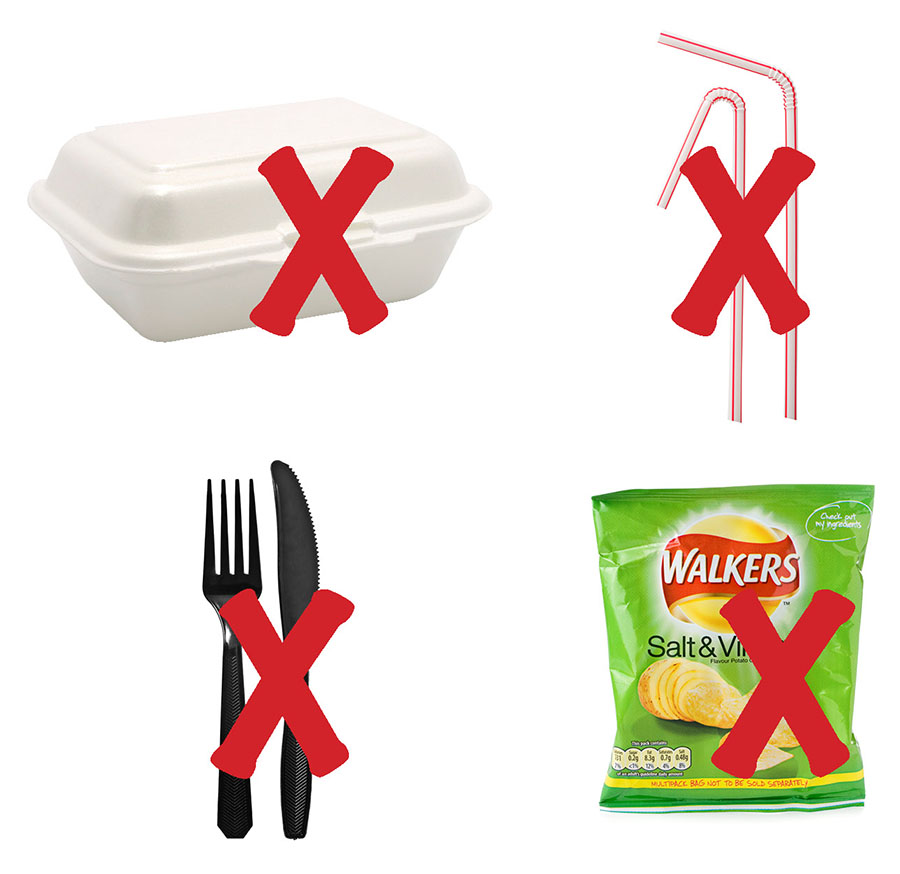 We don't have a processor who can turn it into something else,
The item may cause health and safety concerns for collection staff, and/or
The item is banned from the landfill.
Items that are not accepted will be left behind by collection staff, and include:
Appliances, electronics
Bags that stand up (pouches), plastic mesh bags (such as for grapes), "crinkle" bags (that make a loud noise when you squish it - such as pasta, cereal and cracker bags), pet food bags, squeeze tubes
Bags that contained meat or cheese
Bagged containers (keep cans, cartons, bottles and jars loose to allow proper sorting at our Nyle Ludolph Materials Recycling Centre)
Broken glass (wrap in several layers of newspaper, or put in a cardboard box and tape the box shut, and then place in the garbage)
Bubble wrap, cellophane wrap, plastic stretch wrap
Candy wrappers, snack wrappers
Cans, cartons, bottles and jars that still contain food or beverages
Cardboard cans, such as frozen orange juice cans (If you take them apart, metal ends and plastic lids can be put in the Containers Only blue box, and paper middle can be recycled with boxboard.)
Chip bags
Coffee pods (even if labelled "recyclable", they are not accepted in our program)
Dishware, glassware, cookware
Foil wrapping paper, bows and ribbons
Furnace filters
Household hazardous waste, including syringes
Light bulbs
Mirrors
Toys
Styrofoam, expanded polystyrene including peanuts, packing blocks, trays
Windows
Wooden orange crates
Other plastic household items (like cutlery, hangers, laundry baskets)
Tips and FAQs (Frequently Asked Questions)
Sort it right by using two blue boxes: one for cans, cartons, bottles and jars, and another one for paper products and plastic bags.
Download our waste app to set personalized waste collection reminders.
Prevent litter by preparing recyclables correctly and not overfilling your blue boxes.
Check out our brochures and other information on our Publications and Resources page.
Conserve water when rinsing containers. After washing dishes, use the dishwater to rinse out cans, cartons, bottles and jars.
Using a permanent marker, write your address on each blue box.
What is the two-box sorting system?
The two-box sorting system is when you sort your "containers" (cans, cartons, bottles and jars) into one blue box and your "paper products and paper bags" (newspaper, flattened and bundled boxes, and bagged bags) into another blue box.
The advantages of this sorting system are:
Convenience. Use a larger blue box for "containers only" which will help you store and set-out more recyclables without having to use so many smaller-sized blue boxes.
Efficiency. Properly sorted blue boxes help collection staff sort into the two compartments of their trucks.
We can provide you with stickers for your boxes to help you with sorting. These stickers are free.
Pick up stickers from our Cambridge Administration office (201 Savage Drive, Monday to Friday from 8:30 a.m. to 4:00 p.m.) or Waterloo Administration office

(925 Erb Street West, Gate 1, Monday to Friday from 8:30 a.m. to 4:30 p.m.).
Email us or call 519-575-4400 to order.
How should I prepare my recycling for windy or stormy days?
Don't set items to the curb the night before collection if a storm or high winds are expected. Place your items at the curb by 7 a.m. on the day of collection if the weather is better. Otherwise, consider waiting and setting recyclables out the following week.
Crush or flatten your containers. (Remember to keep your cans, cartons, bottles and jars loose in your Containers Only blue box. Do not bag.)
Place your bagged paper in a blue box and place that box on top of your containers-filled blue box.
Write your address on your blue boxes in permanent marker. This makes it easier for them to be returned.
Thanks for using these tips to ensure the material you set out is collected, recycled, and prevents litter.
How can I fit more into my blue box?
If your blue box is overflowing with recyclables, it can create litter.
Here are some tips to fit more into your blue box:
Crush cans
Flatten milk and juice cartons
Flatten plastic bottles (take the lid off of a plastic water bottle, squish bottle and put the lid back on so it remains flattened)
Flatten boxes and follow preparation instructions above
Stack coffee cups
Stack metal food cans
Why can't I recycle stand-up pouch bags?
Stand-up pouches are a very common type of packaging, but are not currently accepted in our program.
Stand-up puches have many thin layers of different types of plastic which make them strong but still lightweight. Because these types of bags are made out of different types of materials, current recycling markets cannot accept them.
Recycling markets want plastic bags which are made out of only one type of plastic. This allows for the bags to be turned into pellets that have consistent qualities (such as melting temperature). These pellets can then be used to make other products, such as garbage bags. If different types of plastic/pellets are mixed in, it creates problems with product quality (such as holes in garbage bags).
Why aren't bagged containers accepted?
Containers need to be put into the "Containers only" blue box loose. Bagged containers
cannot be processed at our sorting centre since there is no equipment to remove the bags, and
cannot be marketed/sold. Each type of material (carton, metal, plastic, glass) has to be separated and sent to different end markets/use.
Lids and Labels - on or off?
Remove a large lid if it is a different type of material than the rest of the container, such as a metal lid on glass pickle jar. These metal lids will get picked up by the magnet at our sorting centre and recycled with other metal containers.
Keep small lids on. If possible, squish the bottle first then replace the lid, to maximize the space in your blue box.
Labels can stay on, too! There was a time when labels had to be removed from food and beverage containers, but not anymore. Recycling equipment and processes can now remove labels.
My blue box wasn't emptied. Why?
There are a number of commons reasons why items are not collected, including by-laws and bans.
If you have concerns about your collection, please use our online form or contact our Call Centre at 519-575-4400, available 24 hours a day, every day.
Where does it go?
Our collection contractors drop off recyclables at our Nyle Ludolph Materials Recycling Centre (NLMRC), located at 925 Erb Street West (Gate 1), Waterloo. The NLMRC has two sections, one to receive the Paper Products and Plastic Bags, and the other to receive all Containers.
Paper products and plastic bags are dropped off in the east side of the facility, and are loaded into large tractor trailers; we do not sort paper, and plastic bags. This material is shipped to Niagara Recycling, where it is further sorted and then sold to market.
The Containers are dropped off in the west side of the NLMRC, separated by material type, and shipped to different markets in southwestern Ontario, and northern and east south-central regions of the United States.
Ensuring recyclables are sorted properly is key to selling them to market. Early in 2018, China stopped receiving shipments of mixed recyclables. As a result, North American markets have been flooded with recyclables, tightening their requirements, and lowering their tolerance for contamination (unacceptable material).
The good news is that with the two-box sort, we can produce marketable materials! Everyone - residents, collection crews, and the NLMRC processor - are responsible to do their part to help meet the demanding requirements and maximize revenues (to help offset program costs).